How GPS Vehicle tracker works
Vehicle GPS positioning anti-theft system is composed of a vehicle terminal, a transmission network, and a monitoring center. It is a three-layer, integrated monitoring system that provides vehicle anti-theft, anti-robbery, driving route monitoring, real-time wireless transmission of video images inside and outside the vehicle, rapid response to accidents, and call command And other functions to solve the dynamic management problems of existing vehicles.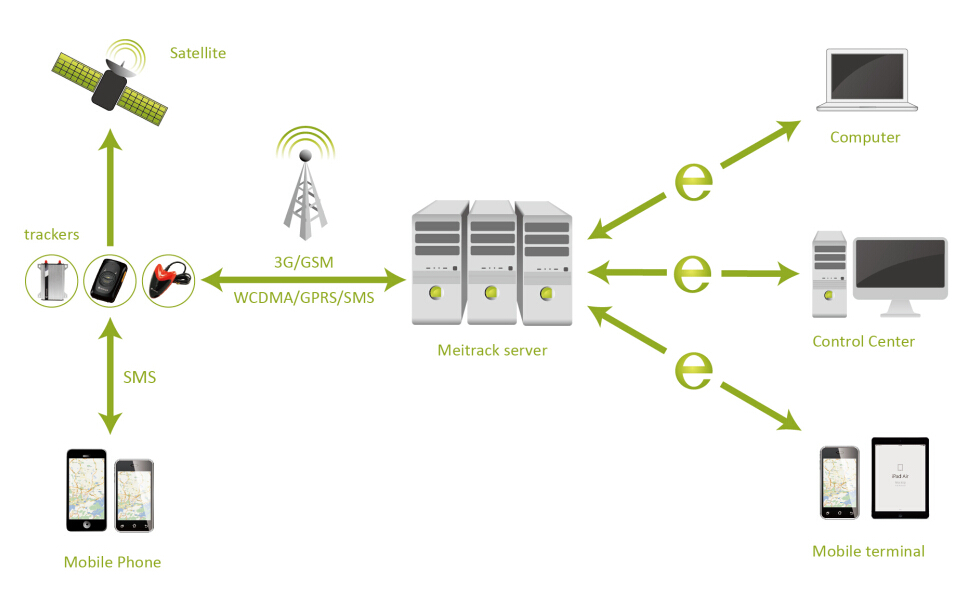 GPS positioning anti-theft system consists of three parts, namely: vehicle host, server and client. The vehicle host mainly determines the location of the mobile target through the Global Satellite Positioning System (GPS), and uploads the data through the mobile communication network and the global Internet. The server receives the positioning data and stores it. The client accesses the map and vehicle positioning information through the global Internet access server. Provide users with comprehensive services.
The working principle of the system is: the GPS receiver device installed on the vehicle calculates the current position of the vehicle based on the received satellite information, and the communication controller extracts the required position, speed and time information from the signal output by the GPS receiver, A data packet is formed by combining information such as vehicle identity, and then sent to the monitoring center through the mobile operator's GPRS network. The server of the monitoring center receives the data sent by the vehicle-mounted machine and extracts the positioning information from it, and displays it on the electronic map of the monitoring center according to the vehicle number and group number of each vehicle. The GPS anti-theft device is even more powerful. It integrates almost all anti-theft functions, and can accurately locate within 5 meters by satellite, which is now. Its sensors use wireless sensing, which is difficult to destroy.
And with the continuous development and progress of technology, GPS car positioning anti-theft device now has the strongest function and the most requested function of customers is "By pressing the lock key of the remote control, the car anti-theft system will automatically enter the anti-theft alert state. When the door is opened illegally, ignited, vibrated, or the tail box is opened illegally, the anti-theft alarm system of the car's anti-theft device will automatically send an alarm text message or call a preset number to ensure the safety of the car.